1999: Part 2
The Flashback Continues...
The year 1999 was only 20 years ago, but it seems so last century. Who can forget the race against time, as companies scrambled to update their computer software amid fears that the rollover of the clocks on December 31, 1999 to January 1, 2000 would set all the internal clocks in the computers back to 1900? Y2K fears would dominate the news cycle for the latter half of the year. Ultimately, of course, nothing happened. There wasn't any blackouts or riots, and we were not plunged into a lawless society. However, we still have these movies to remember that special time.
April
GO – This was a fun, high energy movie with a great trailer. 
This movie also seemed to follow through on the promise of what the trailer teased, and then suddenly, it became a Pulp Fiction knock off—we started to follow less interesting characters on their story as they took a trip to Las Vegas. Then, we finally come back to the characters we opened with, but it feels like the movie never fully recovered. Is it possible some of the side stories were introduced just to make this a feature-length movie?
Pushing Tin – John Cusack and Billy Bob Thornton are two air traffic controllers who each try to prove who is more of a man. Well, this should have been a no brainer. Even more so than GO, this was another movie that failed to live up to its trailer.
Based on an article about the real world New York TRACON radar facility, this movie had details about air traffic control—something we all know is a stressful job—that couldn't be made up. Also, John and Billy Bob are always engaging actors… So, what went wrong? The movie just kind of fizzled, and it's pretty much now just recognized as the movie in which Angelina met Billy Bob. Oh, did I not mention she was in this one? She is… as Billy Bob's wife!
Election – This movie put Alexander Payne on the map, caused us to look at Reese Witherspoon as a more serious actress, and forced us to see Matthew Broderick as someone besides Ferris Bueller. Based on the novel of Tom Perrotta, it used dark humor to satirize both suburban high school life and politics by pulling from two real life incidents. The first was the 1992 Bush vs. Clinton election campaign where Ross Perot entered as a third party candidate (a move echoed by Witherspoon's character, Tammy Metzler). The second was a 1992 incident at Memorial High School in Eau Claire, Wisconsin where a pregnant student was elected homecoming queen, but the staff announced a different winner and burned the ballots to cover it up. (One wonders how you could possibly do that today. The South Park creators even gave up trying to do so.) Interestingly enough, this movie was a critical success (Roger Ebert wrote, "Here is a movie that is not simply about an obnoxious student, but also about an imperfect teacher, a lockstep administration, and a student body that is mostly just marking time until it can go out into the world and occupy valuable space."), however, it was a box-office bomb. Those who remember seeing it in 1999 most likely did so after it appeared on video. Yes, there was still VHS in 1999, although they were being pushed aside by DVD.
Idle Hands – It was supposed to be a comedy horror. The title comes from the saying, "Idle hands are the devil's playthings." It starred a Devon Sawa pre-Final Destination, Jessica Alba pre-Dark Angel, and also Seth Green and Vivica A. Fox, which is the most interesting thing to be said about this movie. Though it bombed at the time, it has since become a cult classic among stoners who smoke large amounts of herb before watching. I am not sure there is any other way you could get through this movie…
Entrapment – This is another movie with a very slick trailer. Catherine Zeta-Jones had been introduced to us a year earlier in The Mask of Zorro, and though Sean Connery was also in this movie, she was the reason to see it. And more specifically, her butt.
I was in the theater for this movie on opening night, and right before the movie started, they showed us the trailer for The Mummy, which would open the next week. I suddenly did not want to see this movie anymore. I suddenly didn't care for the heist, the action, or Catherine's butt. I wanted a supernatural monster movie.
May
The Mummy – The original posters and trailers for this movie promised us a seriously scary horror movie.
With music pulled from Coppola's 1992 version of Dracula, how could we not expect a horror movie?  However, that was not what we got. Instead, we were served a deliciously fun Indiana Jones style adventure movie in the desert that just happened to have a mummy in it. This wasn't a remake of The Mummy with Boris Karloff; it was a "re-imagining," and I was more than okay with that. Walking out of the theater for this movie on opening night, I realized that this movie was exactly what I wanted out of a summer blockbuster. There are those who dismissed the movie then because it was not the horror movie they were expecting, and that is okay. There are those who dismiss it now, and I call those people the enemy of fun. Though it starts to lag towards the end, this movie is pure fun from beginning to end, and with a punched-p script by indie filmmaker guru, John Sayles. It has some great lines, too.
Yes, I adore this movie! Having watched it recently, I can say it still holds up for me.
Notting Hill – Julia Roberts was the rom-com queen (and had been since Pretty Woman a decade earlier), although by this time she was losing some ground to Sandra Bullock. This was the first of two romantic comedies she would be in this year, and this one was supposed to be her comeback—and it was. Also starring Hugh Grant, it is the simple story of a bookshop owner (Grant) who meets the most famous movie star in the world (Roberts)…. and falls in love with her. When the most famous movie star in the world is played by Julia Roberts, who can blame him? The movie offers us a twist we didn't see coming in a story like this. You would expect the bookshop owner to have to be the one who convinces the movie star to love him, but in the best scene of this movie, you see how it's all played out.
Romantic comedies are a dime a dozen, and when they're mediocre, they are instantly forgettable. When they're done well, you see why they keep getting made. This one is done well!
Star Wars – Episode I: The Phantom Menace – There was no bigger movie than this one in 1999. There was no movie with more anticipation, more hype, and more curiosity about it. When the initial poster appeared, we couldn't believe how much a simple image could make us so excited.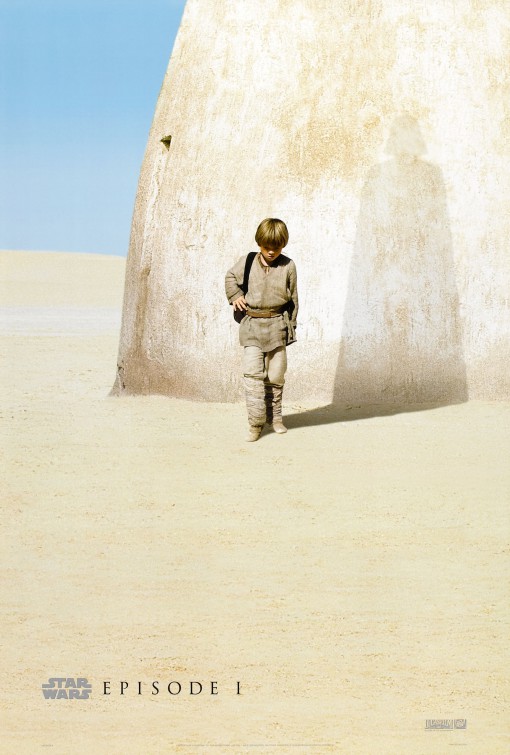 When the teaser trailer appeared in the latter half of 1998 in front of only two movies (The Waterboy and Meet Joe Black), movie theaters reported stories of people buying tickets to those movies just to watch the teaser; they didn't even stay for the actual movie. I bought a ticket to see Meet Joe Black, as I was not an Adam Sandler fan at the time, and I could tell you then that I picked the wrong movie!
When the full trailer was released, it also introduced us to what would become the iconic piece of music from John Williams' score for that movie, Duel of the Fates.
Then, on May 19, 1999, George Lucas let us have it—the movie we had been stewing in our imaginations since the final moments of 1983s Return of the Jedi 16 years earlier; the movie we were teased with by Timothy Zahn's Heir to the Empire trilogy of books in the early '90s; and the movie in which we had been furiously and anxiously waiting with baited breath for since the release of the special edition of the original trilogy in early 1997. At last, we could finally see it!!
The 20th Century Fox Fanfare echoed throughout the theater, accompanying the words, "A long time ago, in a galaxy far, far away…" The audience cheered, and then came John Williams' triumphant main title as the words "STAR WARS" blasted onto the screen. The audience hooted and hollered. We saw the words "EPISODE I – THE PHANTOM MENACE" and the audience was so alive with energy you could feel it flowing through you—just like the Force. Then, at last came the first words of the opening crawl, "Turmoil has engulfed the Galactic Republic. The taxation of trade routes to outlying star systems is in dispute."
This was exactly the moment when my disappointment with The Phantom Menace began. To be sure, there was no way George Lucas could actually make a movie that pleased all the fans of his original trilogy—no way at all. With all the hype and anticipation surrounding the movie, there was no way to fairly review it at the time. Though you might have had issues with it at the time, you couldn't dislike it completely.
Now, 20 years later, we can objectively say Jake Lloyd is a terribly wooden actor (the vote is still out on whether or not he is better or worse than Hayden Christensen), Jar Jar Binks was a terrible idea, and the script definitely needed at least one more rewrite before the movie got sent to production. What the fuck was a midi-chlorian? In the original trilogy, the Force was some mystic thing that anyone might be able to achieve. Now, it is the physical component in the blood and if you don't have it there is no hope. This is a saga built on hope! Also, do you really want us to believe Anakin Skywalker is the product of divine pregnancy? Do you REALLY want us to believe little Anakin Skywalker built C-3PO?? This was George Lucas at the peak of his power, and no one had the audacity to say no to him (for it surely would have been audacity). However, this doesn't mean that the movie is all bad; Darth Maul was a great idea (and it was a terrible idea to do away with him in the first movie of this new prequel trilogy when he had been built-up to basically be the equivalent of Vader), and the final fight between Darth Maul, Obi-Wan Kenobi, and Qui-Gon Jinn is truly awesome. 
Watching these younger Jedis use their powers of the Force and also their lightsabers in ways that had been unseen to us at the time is still so cool.
Why couldn't we have gotten more of that? Why did Lucas instead choose to envelope us in a story all about politics? Also, why did two of the bad guys (I don't know their names, and they are not worth looking up) have to sound so stereotypically Asian (like in a mocking manner that is so hurtful)? No one could tell George Lucas to pull back a bit?!
On that final note that reeks of racism, it doesn't seem as though there is any hope for this to be a well-regarded movie. However, I will say it again… this saga was built on hope. I have found that if I watch this movie with my Blu-Ray remote in hand and fast forward though all the dull bits, it is a pretty exciting 45-minute movie. Yet, it could have been so much more…
Alas, we are left with the movie that is, and not that movie we wanted it to be. In the summer of 1999, The Phantom Menace was everywhere. (No, really. I worked at a Pizza Hut then, and they did a tie-in for the movie; we had Star Wars pizza boxes, Star Wars labels on the Pepsi products, and there was even a full-size Darth Maul decal on the door.) It was ubiquitous. As the summer wore on, Star Wars fever wanned, but during the month of May, there was no denying its power. Why do you think no other studio put a movie into a wide release in those final days of May?
Well, because in the Summer of 1999, like it or hate it (and at the time most people did not outright hate it yet), The Phantom Menace reigned supreme.
Until next time,
-Bill Arthur