Current Events and Movies: Pt. One
'Foreign Correspondent' and the Defense of Journalists
Earlier this month, President Donald J. Trump got upset at CNN's Jim Acosta and pulled Acosta's White House press pass—meaning Acosta is no longer welcome at the White House. White House Press Secretary, Sarah Huckabee Sanders, then released a doctored video that had been sped up in which it appeared that Acosta was delivering a judo chop to the young woman intern who was trying to make the mic away from him.
The lengths to which the White House and the 45th President of the United States go to in order to undermine the press, the media, and journalists in general, seem to know no bounds. They are astounding and they are despicable.
A few weeks ago, a man from Florida started sending pipe bombs through the mail to people and institutions who were critical of POTUS; one of these institutions was CNN.
It can be said that CNN leans left, and that may not be a lie, but the truth of the matter is that whatever the political leanings of the reporters of CNN, they do deserve our protection. I would include that to the journalists of FOX News as well. (Note: Tucker Carlson is not a journalist. He is someone who offers his opinion on the news of the day and puts his "spin" on it. As a result, he is dangerous because too many people take his words as fact…Gone are the times of Walter Cronkite who would simply read the news without offering their take on it. However, enough on that.)
In 1940, Hitchcock released his second American feature after leaving the UK in 1939. It was a movie called Foreign Correspondent, which is about a young American reporter on the eve of World War II who is trying to expose enemy agents in London.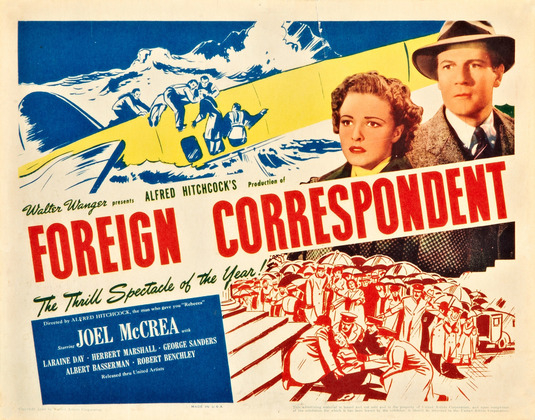 It was based on the political memoir of Walter Sheenan called Personal Memoir that was released in 1935, and won that year's award for Most Distinguished Biography.
In mid-August 1939, just before the outbreak of World War II, the editor of the New York Globe, Mr. Powers, is concerned about the crisis in Europe—the growing power of Adolf Hitler and Nazi Germany, and the inability of celebrated foreign correspondents to get answers about whether war will ensue. After searching for a good, tough crime reporter for a fresh viewpoint, he appoints John Jones as a foreign correspondent.
What follows after that is a Hitchcockian story of spies and secret agents, windmills that turn against the wind, and a murder that takes place in plain sight when someone is shot with a concealed inside a camera. It was released in America on August 16 at the dawn of the Battle of Britain, three days three days after the Luftwaffe began bombing British coastal airfields, and a week before Germany actually began bombing London on August 24.
Foreign Correspondent did well enough at the box office, but because of its high production value, it still lost just under $400,000. It was nominated for Best Picture in 1941, but it lost to another Hitchcock movie, Rebecca.
At the very end, the spies have been revealed and John Jones has his story, but it's the final scene that I really want to talk about here in which Joel Mocker breathlessly delivers his report.
Here is a transcription of those final words because I think they are just important:
"I can't read the rest of the speech I had, because the lights have gone out, so I'll just have to talk off the cuff. All that noise you hear isn't static – it's death, coming to London. Yes, they're coming here now. You can hear the bombs falling on the streets and the homes. Don't tune me out, hang on a while – this is a big story, and you're part of it. It's too late to do anything here now except stand in the dark and let them come… as if the lights were all out everywhere, except in America. Keep those lights burning, cover them with steel, ring them with guns, build a canopy of battleships and bombing planes around them. Hello, America, hang on to your lights: they're the only lights left in the world!"
In an age of a 24-news cycle, it can be easy to take for granted the perils journalists put themselves through. In an age where a new national tragedy seems to take place on a weekly basis (the Tree of Life Shooting in PA, the Borderline shooting in Thousand Oaks, the wildfires in Ventura and northern Los Angeles Counties in which the news does not even for a second turn away from the "breaking news)," it is easy to see the reporters as silly, annoying, or dumb for putting themselves in harms way. I am guilty of that when I see reporters standing in front of crashing waves and strong winds during a hurricane when they tell us the local government has ordered everyone to flee. If that's true, why do they remain?  Well, that's easy. They remain because their station told them to do so because that kind of footage is dramatic and it keeps people watching. It can also be informative. 
Nonetheless, I digress.
Reporters and journalists deserve our respect even when we disagree with them or the news they are reporting.
Certainly Jim Acosta knew the dangerous waters into which he was treading when he hounded Trump for an answer to the questions he was asking—Trump not wanting to answer the questions does not make him special because lots of past presidents have been asked questions they do not want to answer. What does make Trump stand out is that instead of simply saying "no comment" or "next question," he does the same thing he always does—he throws a tantrum.  Trump insulted and belittled Acosta, but Acosta still persisted. Trump demanded the mic be taken away from Acosta, however, Acosta would not let it go. Therefore, Trump had Acosta's press pass pulled.
Trump's disregard for the media is dangerous because they are there to hold our leaders accountable. The term media comes from the word "intermediary," but that's not how our leader wants it. He would rather you get the news straight from his Twitter feed, where he can distort the facts and outright lie as he sees fit. Over the summer (the month of July) in a speech in Kansas City to the Veterans of Foreign Wars convention, Trump stated: "Don't believe the crap you see from these people, the fake news…What you're seeing and what you're reading is not what's happening."
It doesn't get anymore Orwellian than that.
It makes our media and our journalists that much more important, and they deserve our trust. 
They deserve our respect.
They deserve our protection.
Don't let their lights go out.
Lastly, if you haven't seen Foreign Correspondent, you know what you have to do.
-Bill Arthur