Current Events and Movies: Pt. Two
'Paths of Glory' and The Forgotten War
The boast of heraldry, the pomp of pow'r,

And all that beauty, all that wealth e'er gave,

Awaits alike th'inevitable hour.

The paths of glory lead but to the grave.

-"Elegy Written In a Country Churchyard" by Thomas Grey, 1751
We recently celebrated Veterans Day. On that same day, November 11th, we also celebrated the 100th anniversary of Armistice Day. Who knows what that is?
I'll do a quick Wikipedia search for you:
Armistice Day is commemorated every year on November 11th to mark the armistice signed between the allies of World War I and Germany at Compiègn, France at 5:45 am for the cessation of hostilities on the Western Front of World War I, which took effect at eleven o'clock in the morning—the "eleventh hour of the eleventh day of the eleventh month" of 1918. However, according to Thomas R. Gowenlock, an intelligence officer with the US First Division, shelling from both sides continued for the rest of the day, ending at nightfall. The armistice initially expired after a period of 36 days. A formal peace agreement was only reached when the Treaty of Versailles was signed the following year.
And if you are unsure, an armistice is an agreement made by opposing sides in a war to stop fighting for a certain time; a truce.
President Trump flew to France recently for a ceremony commemorating Armistice Day and the fallen soldiers. He skipped one because it was raining, and the White House told us his helicopter couldn't safely fly in the weather; it was a 90-minute drive, but the White House told us security concerns would force too many road closures, and Trump didn't want to do that to the people of France. Both of those statements may be true, but because Trump lies so frequently and so indiscriminately, I am not rushing to believe either of those statements. I think it is dangerous for me to have an inherent distrust of my President, but that's where I am at.
At another ceremony, Trump arrived separately from the other world leaders and got to listen to a great speech from French President Emmanuel Macron on the dangers of nationalism. 
"Patriotism is the exact opposite of nationalism. Nationalism is a betrayal of patriotism. By saying our interests first, who cares about the others, we erase what a nation holds dearest, what gives it life, what makes it great and what is essential– it's moral values."
Well said, President Macron.
Additionally, what I really want to talk about is the forgotten war that is World War I, which only became referred to as such once World War II came into being. Before then, WWI was referred to as The Great War, not because war is great, but because it involved nearly every nation of the entire world. After a full century, this war (that was so big) is barely a memory anymore.
It was almost weird to see WWI depicted in the film Wonder Woman in 2017. I wonder how many in the audience wondered what war it was. WWII abounds in popular culture, but WWI…not so much.
Dan Rather writes: "When I was a child, November 11 was a day that could never be separated from the Great War. I can see clearly in my mind those columns of veterans marching with pride, despite that many had been broken in body and soul from that horrifically bloody conflict. We thought, at the time, that the Great War was destined to be a high-water mark of human martial misery. We now must call it World War I because an even greater death was soon visited upon Earth in the form of a second global conflict."
"It is sad that the news of our current moment has overshadowed the memory of these brave men and the significance of this centennial commemoration of armistice. I will not detour any longer here. We must remember, in the honor of all who served over a century ago, that war is hell — filled with savagery and suffering. The terror of frontline deployments and the sound of the shallow breaths of a dying soldier know all conflicts. They are sights and sounds I will never forget, much as the millions who served in the Great War were undoubtedly similarly haunted. I proudly saluted them then, as I still do now. They are of course long gone, and with them countless stories of personal heroism and horror that no one else will ever know."
There's a reason why Steve Trevor, Chris Pine's character in Wonder Woman, refers to World War I as simply "The war."  Look for it at 3:57 below.
Here are some quick facts about WWI:
It lasted from 1914-1918.

The assassination of Archduke Franz Ferdinand of Austria-Hungary by Gavrilo Princip, a Bosnian Serb, led to Austria-Hungary declaring war on Serbia.

The opposing forces in the War were the Allies (Belgium, France, Great Britain, Greece, Italy, Montenegro, Portugal, Romania, Russia, Serbia and the United States) and the Central Powers (Austria-Hungary, Bulgaria, Germany and the Ottoman Empire, which is now Turkey).

Under a blanket of isolationism and nationalism, the United States wanted to stay out of the war and declared neutrality until German submarine warfare threatened American commercial shipping.

There were 20 million deaths and 21 million wounded. The total number of deaths includes 9.7 million military personnel and about 10 million civilians.

World War I was the first major conflict involving the large-scale use of aircraft, and it inspired the dreams of Snoopy fighting the Red Baron.
For some more facts on WWI, I urge you to visit here, or the Wikipedia page about it, which is here.
WWI has been explored in art throughout history, but many people may not know the origins of these works:
In 1929, Erich Maria Remarque, a German veteran of WWI, wrote about the soldiers' extreme physical mental stress during the war, and the detachment from civilian life felt by many of these soldiers upon returning home from the front in his novel, All Quiet on the Western Front. It was made into a movie in 1930, and is set for a remake.
In 1989, Metallic released their album, …And Justice For All, which featured the song "One" about a WWI soldier who is severely wounded— arms and legs blown off by a landmine, blind, as well as unable to speak or move — begging God to take his life as he feels constant pain. His only hope is to devise a way to communicate with the hospital staff. In the music video, he jolts in the hospital bed, spelling "kill me" in Morse code. Here's the video for it:
And in 1957, Stanley Kubrick released Paths of Glory, starring Kirk Douglas, and based on the novel of the same name by Humphrey Cobb.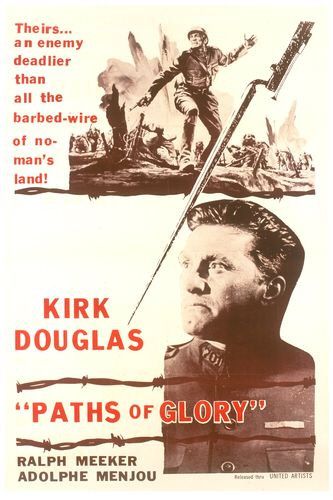 It follows Douglas as Colonel Dax, the commanding officer of French soldiers, who tries to exonerate his men after they are charged with cowardice.
The movie begins with a voiceover, describing the trench warfare situation of World War I up to 1916, which I could not find a clip of, so you'll just have to read it.
"War began between Germany and France on August 3rd 1914. Five weeks later, the German army had smashed its way to within eighteen miles of Paris. There the battered French miraculously rallied their forces at the Marne River and in a series of unexpected counterattacks drove the Germans back. The front was stabilized then shortly afterwards developed into a continuous line of heavily fortified trenches zigzagging their way five hundred miles from the English Channel to the Swiss frontier. By 1916, after two grisly years of trench warfare, the battle lines had changed very little. Successful attacks were measured in hundreds of yards, and paid for in lives, by hundreds of thousands."
Here is the scene following the opening narration as a general walks through the trenches and belittles a man suffering from shell shock.
Yes, as seen in this scene and also in Wonder Woman, trenches were really the best way to fight wars in 19-teens. With all the shells going off around them, you can only imagine how bloody it got. How shattered some of the soldiers might end up, both in spirit and in body.
Back to the movie, where (in a château) General Georges Broulard, a member of the French General Staff, asks his subordinate, the ambitious General Mireau, to send his division on a suicide mission to take a well-defended German position called the "Anthill."
When the attack goes badly, the higher ups decide to charge the officers with cowardice. Dax attempts to defend them, but he fails—his attempt to do so is being mistaken by the General as angling for another officer's job. His fury in the courtroom scene is powerful as he admonishes his higher ups.
The look on Dax's face when he learns he has failed to save his soldiers and they are to be executed anyway is haunting and painful. It might be the perfect definition of war.
The final scene doesn't do anything to leave you any happier, either—for we know the war will go in, and we know it will not be the last war as many thought (hoped) it might be. (WWI was sometimes called the war to end all wars. That would have been nice…)
Roger Ebert describes the final scenes as such: Paths of Glory "closes with a scene that doesn't seem organic to the movie. We've seen harrowing battlefield carnage, a morally rotten court-martial, French army generals corrupt and cynical beyond all imagining, and now what do we see? Drunken soldiers, crowded into a bistro, banging their beer steins on the tables as the owner brings a frightened German girl onstage."
"He makes lascivious remarks about her figure and cruel ones about her lack of talent, but she has been captured and must be forced to perform. Hoots and whistles arise from the crowd. The frightened girl begins to sing. The noise from the crowd dies away. Her tremulous voice fills the room. She sings "The Faithful Hussar." A hush falls, and some of the soldiers begin to hum the notes; they know the song but not the words.
"If the singing of "La Marseillaise" in a bar in Casablanca was a call to patriotism, this scene is an argument against it. It creates a moment of quiet and tenderness in the daily horror these soldiers occupy — a world in which generals casually estimated that 55 percent of these very men might be killed in a stupid attack and found that acceptable."
"Songs at the ends of dramas usually make us feel better," Ebert continued. "They are part of closure. This song at the end of this movie makes us feel more forlorn. It is not a release, but a twist of Kubrick's emotional knife. When Truffaut famously said that it was impossible to make an anti-war movie, because action argues in favor of itself, he could not have been thinking of Paths of Glory, and no wonder: Because of its harsh portrait of the French army, the film was banned in France until 1975."
It's a brutal movie. There is no heroism. There is no happy ending. There is only bleakness (which became an inspiration of HBO The Wire, says its creator, David Simon), and the movie's message is clear: war is hell. It is a movie that doesn't have nostalgia for the camaraderie of serving with your fellow troops. This movie has only the nightmare that is war.
If you haven't seen the movie, I urge you to do so. Put down your phones and all the other distractions, and let yourself be taken in by the tragedy of this movie. The tragedy of a war that is fading from our collective memory during a period of time after Titanic sunk and before The Great Depression.
There are many upon many lessons in that period of time that deserve to be remembered and to not be forgotten—lessons in which we seem to be forgetting in a time when our leader proudly proclaims he is a nationalist.
We must not forget our past. We must not repeat our mistakes. We can not let ourselves descend into an attitude of apathetic nationalism.
Forgetting about it would be the greatest insult to all those who fought and died in World War 1.
Never forget.
-Bill Arthur