Hollywould: Marvel, #MeToo, and Murder
The film and television business moves at a mile a minute, so keeping up with the latest news can be a little daunting. Not to worry— we have your back. In Hollywould, we'll round up the industry developments you need to know. Here's what you may have missed:
Choose Your Own Adventure with Fox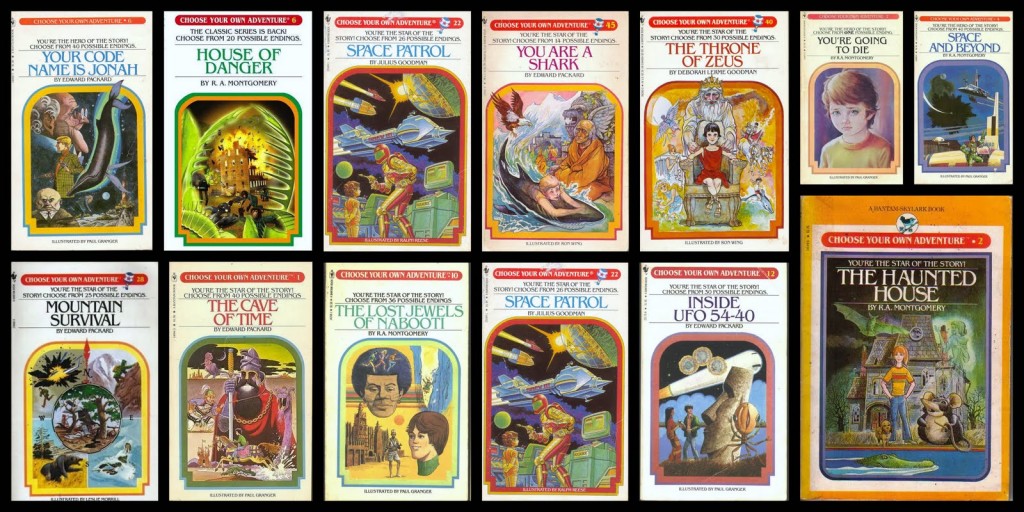 Fox is hard at work on an interactive Choose Your Own Adventure movie, where the audience controls the plot developments with their phones… Really. Viewers will download an app that allows them to vote at points on what characters do, and shape the outcome of the story just like the classic book series. The process has been compared to Telltale's video games where players are given a short window to choose dialogue choices and actions that directly affect the games' stories. However it works, I'm sure it'll make for the most obnoxious viewing experience ever.
Marvel Planning Releases up to 2025
Burned out on Marvel movies? Too bad…
While speaking with the Associated Press, producer Kevin Feige revealed Marvel is talking about releases stretching all the way to 2025:
"We're always thinking ahead. Just when people think they can pin us down, we go somewhere else and that's going to happen again after Infinity War in the build-up to the next Avengers film. And we had meetings earlier today about 2024 and 2025."
One of those projects might be from Ben Wheatley, director of High Rise and Free Fire. When speaking on the Adam Buxton Podcast, collaborator Bob Mortimer let it slip that Marvel has offered the director a crack at their universe:
"We've got one [project] in at the moment that nearly got going that we hope we'll make which is about Michael Jackson. He left a glove, one of his training gloves that he used when he wasn't on stage, and it's a very valuable item now, and there's a few people trying to get ownership of it. It's just a road movie thing. But we were about to start that, but you know Ben Wheatley? Ben Wheatley got offered one of the big Marvel films, so it wasn't for us to say, 'You ain't doing that, Ben.'"
No word on what the project might be, though Feige told The Wrap that an Eternals project is in the works. Eternals follows an evolutionary offshoot of humankind that develop godlike superpowers, which does not sound like the X-Men at all.
Ashley Judd Takes Weinstein to Court
Harvey Weinstein's getting served. Ashley Judd has sued the producer/sexual predator for damaging her career after she rebuffed his advances; she alleges he shut her out of roles by lying about her to potential collaborators. Judd has backup: Peter Jackson's said he cut Judd from a casting list after he received "false information" about the star. Judd released a statement saying that any money received from the suit would be donated to the Time's Up Legal Defense Fund "so that women and men in all professions may have legal redress for sexual harassment, economic retaliation and damage to their careers."
YouTube Picks Up Comedy from Happy Endings Team
The minds behind Happy Endings are back with a ten episode order from YouTube. Currently untitled, the show will drop in 2019 and star Happy Endings' Adam Pally, Detroiters' Sam Richardson, and feature Jay Pharoah as a recurring guest star. The series' concept is described as "every rapper has a crew he can't live without… and vice versa." Sure, okay. It'll be Sony's second YouTube project, following the recently released Cobra Kai. Still no word on if anyone actually subscribes to YouTube Red.
John Woo to Remake The Killer with Lupita Nyong'o
With a remake of 1989s The Killer, John Woo returns to Hollywood with Black Panther star Lupita Nyong'o in a starring role. The actor is in negotiations to play the film's assassin— a role originally played by Chow Yun-fat.
In this iteration, Nyong'o would play an assassin who risks her own life to help a woman she blinded on the job. The script comes from Collide scribe Eran Creevy, rewriting a draft from 10 Cloverfield Lane's Josh Campbell and Matt Stuecken. Universal Pictures has fast-tracked the production.
HBO Orders I'll Be Gone in the Dark Docuseries
The late Michelle McNamara's book, I'll Be Gone in the Dark: One Woman's Obsessive Search for the Golden State Killer, is about a hunt for one of America's most elusive serial killers. It will be turned into a documentary series for HBO. The timing's perfect as Sacramento police arrested former officer Joseph James DeAngelo in April, charging him with murders dating back to the '70s.
McNamara, a true crime writer, passed away in 2016; her husband Patton Oswalt finished the book with collaborators Paul Haynes and Billy Jenson, then released I'll Be Gone in the Dark in February 2018. Liz Garbus, the Emmy winner known for Nothing Left Unsaid: Gloria Vanderbilt & Anderson Cooper and There's Something Wrong with Aunt Diane, is slated to direct.
Chastain, Cruz, Cotillard and More Hit Cannes With 355
Premiering at Cannes, Simon Kinberg's spy thriller 355 has a killer cast: Jessica Chastain, Penelope Cruz, Marion Cotillard, Lupita Nyong'o, and Fan Bingbing. A potential franchise for whoever picks it up, 355 aims to shake up the male-dominated espionage action genre.
Kinberg and Chastain just collaborated on the upcoming X-Men: Dark Phoenix where Chastain pitched the idea of an all-female spy squad:
"I had so much fun working on The Help that I always wanted to do another female ensemble film. I love the Bourne movies, the Mission: Impossible films, and wondered why, except for Charlie's Angels, there hadn't been a true female ensemble action-thriller spy film. That got my wheels going, along with the idea of casting actresses from all over the world to truly make it an international project. I realized the incredible creative freedom we would have with that. I brought the idea to Simon, told him about the actresses I was thinking of, and he was so sweet. He said, 'I want to do it with you.'"
Chastain went on to say that the pieces came together quickly when every actress she called said "yes" to the project. The whole key ensemble will appear at Cannes together where they'll pitch to potential buyers.
Weinstein Company Auction Goes to…Whom Exactly?
Lantern Capital Partners, a firm specializing in car dealerships with "no Hollywood experience," has placed the winning bid in the bankruptcy auction for the Weinstein Company. The production company's lawyers claimed its library had attracted over 60 bidders, but in the end there were only three. Lantern, which owns numerous flailing car lots and a zinc recycling company, offered to buy the company whole; they beat Broadway producer Howard Kagan's bid of $315 million (which included $25 million for Harvey Weinstein's numerous accusers). A bankruptcy judge has yet to rule on the bid, and creditors still have a chance to object.
That's all for now. Come back again for your weekly breakdown of Hollywood happenings.
-Jackson Sutliff