How Does the 'Mission: Impossible' Series Keep Getting Better?
Tom Cruise is Back Again with a Brand New Mission
The Mission: Impossible series marks its fifth entry this summer, which is an impressive feat for a franchise that began life 22 years ago. There might only be a handful of other franchises that have managed to stay successful and relevant for so long: James Bond, Star Trek, and Star Wars.
So, what's the trick?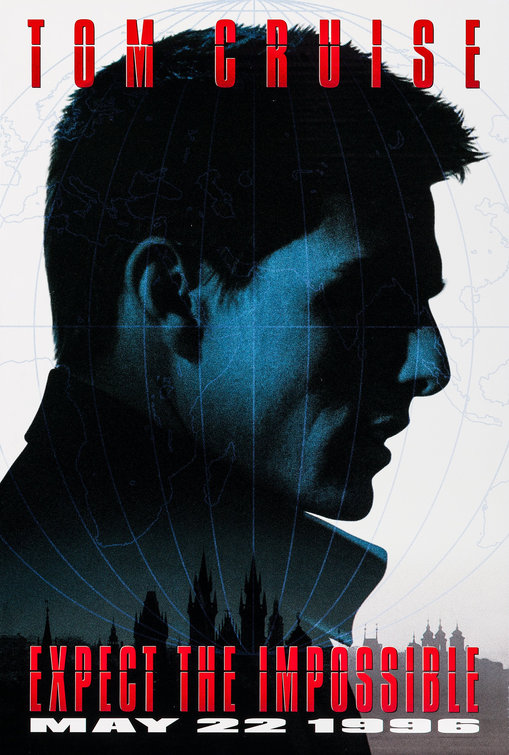 When the first Mission: Impossible movie premiered in May 1996, no one gave it much thought. It was a serviceable enough action/spy thriller from Brian De Palma. The best sequence involved a wordless break-in to the CIA headquarters that had star Tom Cruise hanging suspended from the ceiling mere inches from the ground.
The worst moment came at the movie's climax when Tom Cruise used an explosion to jump from a helicopter in a tunnel onto a speeding train.
It shared a plot with another 1996 summer release, Eraser with Arnold Schwarzenegger, but really the movie everyone wanted to see that summer was Independence Day. By the time that movie came out in July, M:I was nothing more than an afterthought.
ID$ (oops, ID4) dominated everything that year, but when Roland Emmerich tried to cash in on his ID$ franchise, it came and went faster than you could blink. No doubt that was due to a story that was not that great to begin with, and also maybe because Will Smith didn't return.  
So, again, what is it about Mission: Impossible?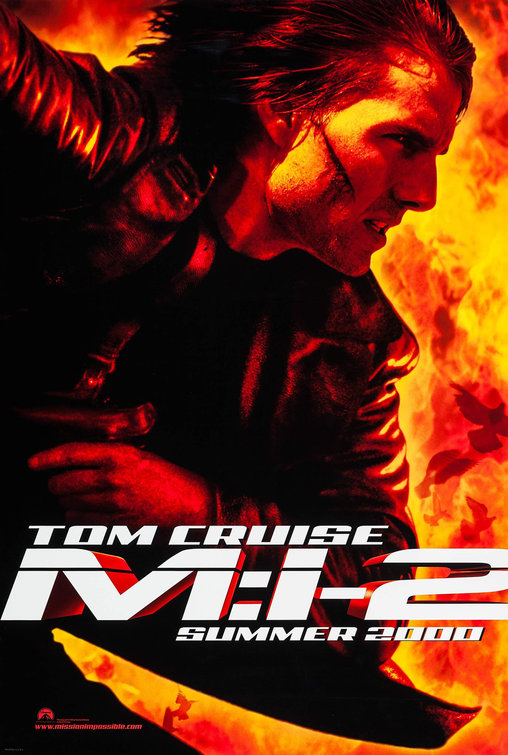 The first sequel, M:I-2, came out in 2000 and was directed by John Woo. While the first one had a score by Danny Elfman and a song by Larry Mullen, Jr. and Adam Clayton, part two gave us a score by Hans Zimmer, a song by Limp Bizkit, and another by Metallica. It seemed as if they wanted to make the franchise harder and edgier. Did it work? Well, M:I-2 was a lot of fun while I watched it, but thinking about it later, it made Ethan's jump in the tunnel from the helicopter to the train pale in retrospect. (If two guys are speeding at each other on motorcycles and then jump off, they do not automatically get launched into the air.) Also, where did Anthony Hopkins came from? Who was Ethan's boss now? What happened to Henry Czerny?
In another attempt to make the franchise grittier and more appealing to modern audiences, Ethan's short hair was gone and replaced by a raggy mane of greasy hair that hung in front of his face, or stuck to it when he wasn't sweating.  
Oh, well. It seemed as if Paramount was in no rush to make another M:I movie. While M:I-2 did well enough, no one was clamoring for a part three. This also capped the public's interest in John Woo movies.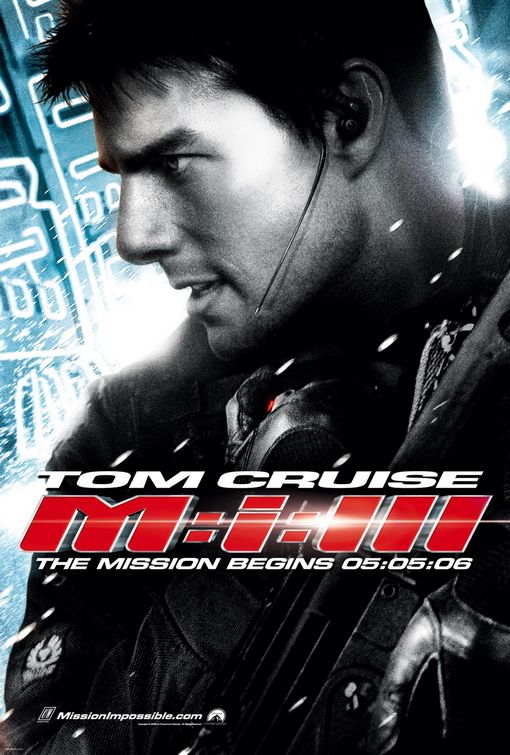 M:I-III came out in 2006, and this was directed by J.J. Abrams, who (at the time) was known mostly for the TV show Felicity starring Keri Russell. As such, he brought his TV star to the franchise, and then quickly killed her in the opening sequence. However, that wasn't the only thing J.J. brought from TV. While the first two movies focused on action and intrigue, this one focused on Ethan's family life and his new marriage? It was not a bad effort at an M:I movie, but it wasn't the M:I movie people quite expected. M:I-III has gotten better with age, including a powerhouse performance by the late Phillip Seymour Hoffman as the film's villain.
So the franchise was shelved for another five years, and when it appeared again, it would be retooled. Though we saw germs of what the franchise would become in the previous entries, those traits would not be fully embraced until the next movies came out.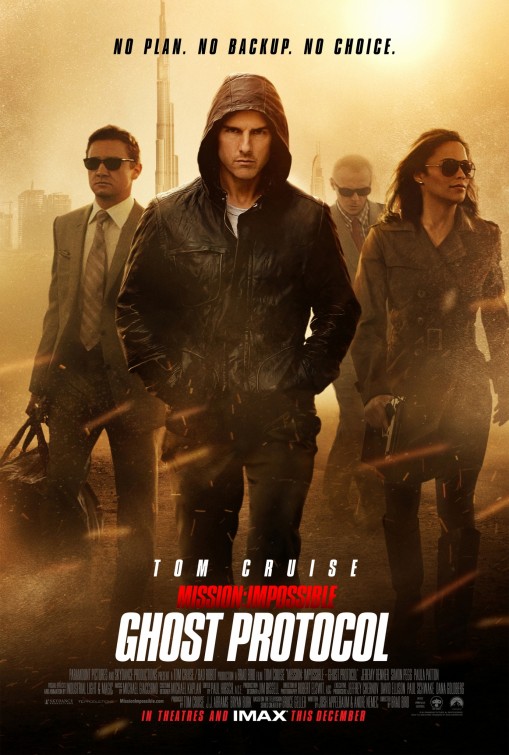 Mission: Impossible – Ghost Protocol was released in 2011, and this one was directed by Brad Bird, who up to that point had only made animated features (The Iron Giant, The Incredibles, and Ratatouille). It featured the return of Tom Cruise and Ving Rhames, both of whom had been with the franchise since the beginning, and it also introduced a few new characters: Alec Baldwin was Ethan's boss now, Simon Pegg was the new tech guy (so that Ving Rhames could be free to do other things), and Jeremy Renner was the new guy. Ostensibly, he was brought to the franchise in the event that Tom Cruise wanted to leave (there were rumors he might), but as much as like I like Jeremy Renner, he does not have the megawatt star power that Tom has.
There were some exhilarating sequences in this movie. In fact, I want to say, it had some of the best "Mission: Impossible" sequences since the break-in to the CIA vault in the first one.
What is a "Mission: Impossible" sequence? I want to say it's a sequence that relies more on tension and suspense than on action. M:I-2 had lots of action. Too much action. M:I-III had action, too, but the only sequence involving suspense was the one in which they were trying to make a mask of the bad guy played by Philip Seymour Hoffman on the fly. Also, they didn't quite have the voice matched yet when his bodyguards entered the scene.
Ghost Protocol had a great sequence outside a skyscraper.
It had a wonderfully imaginative action sequence with cars on a conveyor belt thing that I think only could have come from the mind of an animation director.
What worked so well about this one is that it was largely a stand-alone event. If you had seen the others, you would appreciate seeing Ving Rhames again, and it gave Jeremy Renner's speech about Ethan and his wife a little more weight. Other than that, if you went into this movie without having any knowledge of any other M:I film before it, it was no less enjoyable.
Paramount would remember this when they released the next one four years later.
Mission: Impossible – Rogue Nation debuted in 2015, and was directed by Christopher McQuarrie. Though he had a long career as a writer going all the way back to The Usual Suspects (and a lot of Tom Cruise movies), and before this, McQuarrie had only directed The Way of the Gun and the Tom Cruise vehicle Jack Reacher based on the bestselling book series by Lee Child. (I could say a lot about that movie and the books upon which it's based, and maybe I will in another article.)  
So, imagine my surprise when it turned out to be the best Mission of them all!
The good time began when in the first five minutes of the movie, the moment we had seen in the trailer, was gone and out of the way. This meant we had no expectations for the rest of the movie. It could do whatever it wanted; it was free to be its own thing. (Let this be a lesson on why it can be dangerous to watch trailers— sometimes they give away the end of the movie… The Long Kiss Goodnight is a prime example.)
Putting Ethan at odds with the IMF and CIA is not anything new (in fact it brings the series back full circle), but Rogue Nation did it with such panache. The action was good, and the "Mission: Impossible" sequence underwater was breathtaking.  Sorry, I couldn't resist the pun.
And I loved how the score incorporated a cue from the original TV series.
But what I really liked was how the bad guy was arrested. Not killed— arrested!
Also, what makes that bit so good is that it pays off in this new one, Mission: Impossible – Fallout, which is again directed by Christopher McQuarrie and due July 27th— only three years after Rogue Nation (the shortest time span between Mission movies yet).
If you've seen the trailers, you see the bad guy from the last one is back  (and if you have not seen the last one, it won't matter. This will be just another bad guy for you, and it won't affect how much you enjoy it at all.) Obviously, there is going to be some fallout from keeping that guy alive and arresting him instead of killing him. Though, I am sure that is not the only fallout to which the title eludes.
I'm excited for this new Mission, and if the series continues to provide a good time, it's going to continue to be a mission I will accept.
Sorry, I couldn't resist that either.
Then it appears the secret to Mission's success is that while it rewards old fans with recurring characters, and in the case of this newest movie a villain, it doesn't alienate more modern viewers with backlogs of characters and story. I'm looking at you, MCU. As much as I enjoyed Infinity War immensely, I can't imagine walking into that movie and having it have the same effect without having seen all 19 previous MCU movies. That's a lot to ask for.
Keep it up, Mission: Impossible. I'll be there!
This message will self-destruct in 10 seconds….
Until next time,
-Bill Arthur