JAMES CAMERON VS. TECHNOLOGY: Volume 2
In the previous article, I discussed the theme of James Cameron's catalogue of movies involving humanity vs. technology. Cameron goes back and forth about how the use of technology can be both a benefit and a burden for mankind, and we as an audience will know how he will pose technology in the movie depending on the first letter of the title. If the movie starts with an A, then technology will be a benefit, but if the movie starts with a T, then technology will be a burden to humanity.
Technology can be a great tool, but to let it become more than that, to misuse it and abuse it, is nothing less than foolhardy.
When ALIEN premiered in 1979 and became a runaway success, the producers were immediately interested in a sequel. However, a change in management at Twentieth Century Fox delayed those plans until 1983. Enter James Cameron, who was still up-and-coming in Hollywood at the time. He had an idea for a sequel as long as he could keep the character of Ripley attached to the project. He saw ALIENS as an allegory for the war in Vietnam. Though the war would be over 11 years by the time ALIENS was released, the nation's wounds from that war were far from healed.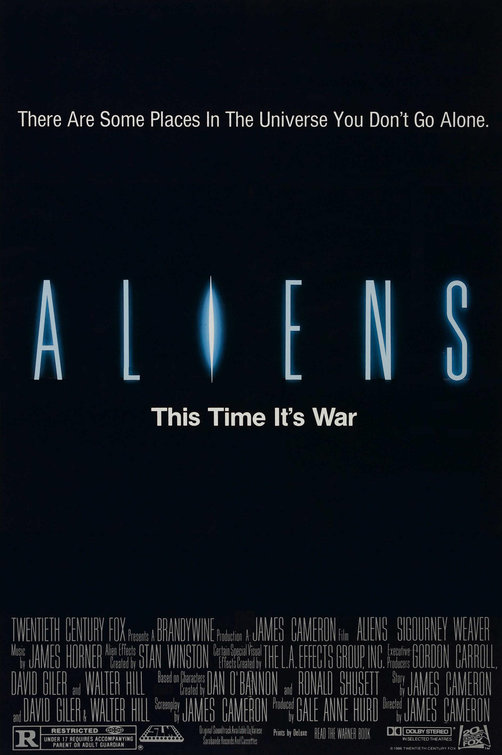 1986. ALIENS. Cameron saw the Aliens (Xenomorphs as they would be later called) as a parallel for the much less technologically advanced Viet Cong army; and of course, the Colonial Marine Corps would act as a substitute for the whole of the American forces. What intrigued Cameron about the story was the idea that such a technologically advanced army could be reduced to ruins by such a primitive force.
The Colonial Marines have their drop ships, their smart guns, and they have their pulse rifles…
… but none of that matters a whit to the unstoppable Alien horde.
Cameron's stroke of brilliance with this movie is the same one he applied to the Terminator franchise: to expand upon the mythology already present in the first movie. Whereas in ALIEN we saw only a lone warrior or drone, in this movie Cameron introduced us to the hivelike mindset of the Aliens, complete with a Queen. No matter how fierce the firepower, the Aliens just keep on coming until all the Marines are dead except for the Hicks; who get wounded so badly only Ripley is physically able to go mano a mano with the dreaded and very angry Queen. Cameron's other stroke of brilliance in this movie was the theme of a mother defending her children, the Queen protecting her brood vs. Ripley as the surrogate mother for Newt.
Even though all of the Marine's firepower have met the Aliens and failed, it is Ripley who, with her ingenuity and inner resolve, finally manages to defeat the Queen Alien with the help of a small equipment called a Power Loader (built by Caterpillar, a company with a logo familiar on a lot of construction vehicles in the '80s) in a sequence that begins with one of the greatest lines in cinematic history.
Technology rose up and became an enemy of humanity in the Terminator franchise. Here, in ALIENS, it's almost as if Cameron is saying that when tempered by human instinct (to protect one's children and human intellect; if it is allowed merely to serve and to aid humanity) then technology can be a benefit to mankind, and humanity need never fear it. Only when humanity gives technology the ability to think, or allows the technology to take over the decision-making process, will technology rise over humanity and attempt to destroy it.
As stated in the previous article, this is a theme that Cameron has consistently explored again and again throughout all his movies; as well as the movies he is related to.
Cameron wrote The Terminator, ALIENS, and Rambo: First Blood Part II at the same time, and even though Sylvester Stallone heavily rewrote Rambo, there is a moment in the script that shines through as pure Cameron. It is when Rambo destroys all the computers that were supposed to help him in his rescue of the POWs.
Cameron's message is clear: technology is a tool for mankind, and should only be used as a tool. The moment we let it become something more is the moment we doom ourselves as a species. For his biggest movie, Cameron was going to bring all his thoughts and feelings about art and science to bear in order to tell the ultimate story of what happens; when humanity places all its faith in technology and tempts the Gods, the Fates, and the ocean with an "unsinkable" ship.
Now, we will look at the ultimate parable about the dangers of humanity placing their overwhelming faith in technology, and by doing so involves tempting fate. A story that takes place just after the turn of the century, when technology was really beginning to take hold in our daily lives, a fragile time during which humanity was going to learn a valuable lesson about how to properly use technology. Also, what happens when you give that technology too much power.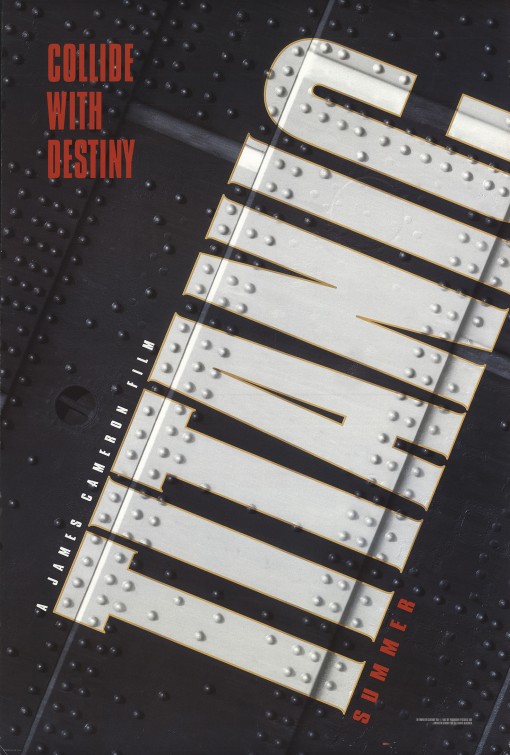 1997. TITANIC. It is the ultimate parable of humanity's arrogance and overreliance on technology, which leads to disaster. In 1898, Morgan Robertson published a novella called The Wreck of the Titan: Or, Futility, about an ocean liner that sinks in the Northern Atlantic after it strikes an iceberg. This was 14 years before RMS Titanic would even be finished being built. Cameron, of course, didn't have anything to do with this novella, but even the very idea of that story has fascinated humanity since before the last century.
It is a little difficult to talk about this movie without talking a bit about the ship itself, and its place in history.
Titanic boasted about advanced safety features such as watertight compartments (the interior was divided into 16 primary compartments and divided by 15 bulkheads, which extended well above the waterline), and remotely activated watertight doors. Titanic's rudder was so large (78 feet 8 inches high and 15 feet 3 inches long, weighing over 100 tons) that it required steering engines to move it. The ship was equipped with her own waterworks, capable of heating and pumping water to all parts of the vessel via a complex network of pipes and valves. Finally, Titanic's radiotelegraph equipment (then known as wireless telegraphy) was leased to the White Star Line by the Marconi International Marine Communication Company, which also supplied two of its employees as operators. The service maintained a 24-hour schedule, primarily sending and receiving passenger telegrams, but also handling navigation messages including weather reports and ice warnings.
This technology made Titanic, in the eyes of the public, virtually unsinkable. Soon, the White Star Line began using that phrase in its publicity as it promoted its newest and grandest ship. Titanic was designed to stay afloat with 4 of her 16 watertight compartments flooded, or open to the sea, and no one could have imagined a scenario when that would ever happen. Of course, when she collided with an iceberg at 11:40PM (ship's time) on April 14, 1912, it opened six of her watertight compartments, dooming the ship and most of the people aboard to a watery grave.
While man's faith in technology and the unsinkable ship had proved to be their undoing, it was also the new technology of wireless telegraphy that would lead to the rescue for a small number of people (705 out of 2,224 passengers) aboard the ship. The wireless technology of the radio operators and the use of the new code, S.O.S. Senior Officer Jack Phillips and Harold Bride were the ones responsible for radioing the news of Titanic's situation to any other ships in the area. Without them, Carpathia would have never arrived on the scene to rescue those who had survived the sinking.
This story, with man's misplaced faith in technology at the heart of it, seemed to be tailor-made for Cameron. Also, at $200 million dollars, it would not only be the third time Cameron made the most expensive movie ever (just as he had with T2 and True Lies), it would end up costing more than the Titanic itself.
However, James Cameron was not the first person to make a movie about Titanic. Etienne Arnaud in 1912, only 29 days after the sinking, cowrote with Dorothy Gibson (a Titanic survivor). Over the course of the next 85 years, there would be countless other movies about the ill-fated Titanic. So, what would be new about Cameron's take? What was he going to do different? He didn't just want to create another movie about the ship and its doomed passengers. He wanted to create a "living history" of the event, and it was going to require technology that had never been used before.
Cameron had always been inspired by shipwrecks, and he considered Titanic to be "the Mount Everest of shipwrecks;" but of course Cameron was a perfectionist down to the smallest detail (he would call himself a "rightist" as in doing it "until it was right"). Furthermore, if he was going to tell the story of Titanic, he wouldn't do it unless he could dive down to the actual ship and shoot it for real. He didn't want just to tell you the story of the ship, he wanted to SHOW it to you. So, Cameron convinced Fox to promote the movie around the fact that he would go down to the wreck and shoot the actual ship (showing the actual sunken cruise ship became part of the marketing campaign). In 1995, Cameron dove down to the Titanic.
Cameron had a vision on how he wanted to showcase the ship; he did not want to shoot the Titanic from inside the sub. He wanted to be able to shoot from outside the submersible, but how do you do that in the unforgiving watery world in which the Titanic rests? To even get to that depth requires a technology in and of itself. The pressure would destroy any normal camera, nevertheless, Cameron was adamant that he wanted a camera outside in the water.
Therefore, he had to create a new camera system.
To do this, Cameron enlisted his brother Michael's help to design a camera that would be able to withstand the intense pressures of the deep ocean. He made a hybrid out of a regular 35mm camera, which he modified to fit inside a very strong titanium housing. Then he created a remote control lighting system that could be launched from a second mini sub, and positioned to give the best possible lightning in those dark depths. It was a camera designed so specifically that it would only work at such great depths.
After the underwater filming was complete, Cameron wrote the screenplay in which he paid close attention to detail, and a lot of it shines through in the final movie. For instance, the collision with the iceberg lasts 37 seconds, and that is exactly how long it actually took.
There was one historical fact, though, that Cameron felt he had to leave out of his story, and that is the freighter ship S.S. Californian; which was in sight of Titanic as the cruise ship sank. They had come to a stop because of the ice warnings which Titanic had chosen to ignore, and the radio operators had shut off their radio. They never got the S.O.S. calls from the doomed Titanic. Cameron took it out because if you look at the story of Titanic as a metaphor for the end of the world, (a metaphor for humanity's reliance and ultimate undoing by their arrogance and faith in technology), then the world must be self-contained.
When it came time to shoot the movie, 20th Century built a brand new studio in Playas de Rosarito in Mexico. A 17 million gallon tank was built for the exterior of the reconstructed ship, providing a 270-degree view of the ocean.
In a cost cutting measure, only the starboard (right) side of the exterior set was built. In the scenes in which Titanic is docked at Southampton, all shots were flipped in post-production in order to give the appearance of the port side of the ship; which is historically accurate as to how it was docked. The production had to painstakingly reverse costumes, images and signage in order to complete the production.
Cameron did this again on a much smaller scale in the scene in which Jack draws Rose nude on the couch. Those are Cameron's hands doing the sketch, but he is left-handed and Di Caprio is right-handed. So, once again the mirror image photography was used.
Cameron used all the filmmaking tricks he had at his disposal in order to create his vision of a living history: real world practical effects, miniature effects, and CGI. It was the ultimate merging of art and science, using some very high tech features to create the illusion, and in some instances, some very low tech features that you might find in a grade school. For instance, the shot of the ocean water ripping through the corridors of the ship was created with a miniature model that had all its doors and wall panels broken apart. It was very loosely reassembled with glue so that they could then blast it apart by multiple hoses.
Cameron's skills paid off. Titanic would become the first Best Picture Academy Award winner to be produced, directed, written, and edited by the same person.
"The story could not have been written better," Cameron said about Titanic. "The juxtaposition of rich and poor, the gender roles played out unto death (women first), the stoicism and nobility of a bygone age, the magnificence of the great ship matched in scale only by the folly of the men who drove her hell-bent through the darkness, and above all the lesson: that life is uncertain, the future unknowable…the unthinkable possible."
Titanic exists in history as a great tragedy, and on film, it exists as a great movie; a near-perfect merging of science and art. They both exist as the definitive warning of an overreliance on technology, on what happens when humanity ignores common sense and allows itself to fall victim to hubris. What happens is humanity forgets that technology, no matter how great, is just a tool; to give it more power than you would give a hammer or a screwdriver is to invite disaster into the world.
It would be 12 years before Cameron released another feature, during which time he created for TV. He composed Dark Angel, a story set in a future in which an EMP (electro-magnetic pulse) has gone off, disabling all electronics, and hurling humanity back to a time before technology. The series didn't last long, and was canceled after two seasons.
During the next almost decade, Cameron would almost disappear as he worked on his next story; a story about how technology might be humanity's final salvation.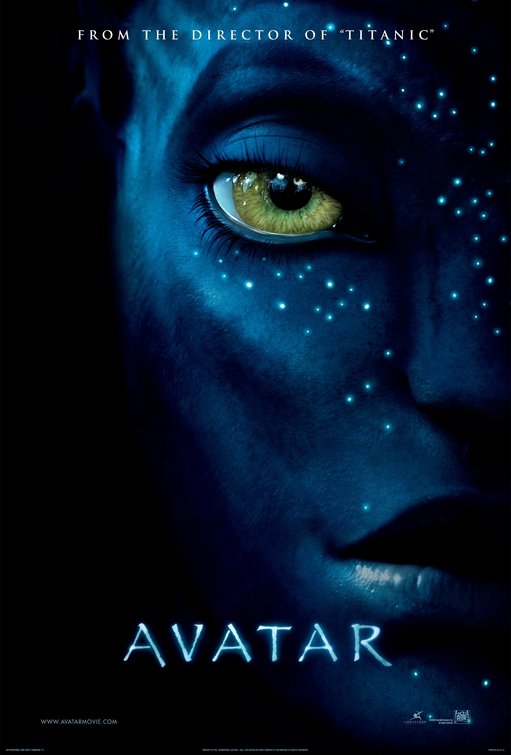 2009. AVATAR. After Titanic, this movie exists almost as an afterthought, but it still fits the A vs. T theme of Cameron's filmic bibliography. Man has discovered a rare element on the planet of Pandora, and they are mining that element from the planet; though the natives, called the Navi, are dubious about man's final goal on that planet. Through the use of technology, man is able to create a walking, breathing, second life avatar that looks just like the Navi.
The story centers on Jake Sully, a paraplegic marine, who, through the use of the avatar technology, is given the chance to walk again as one of the Navi. He falls in love with one of the Navi's, and as he starts to feel that this planet and this race is more of his kind and more of his home than humans and Earth; he soon begins to question his orders. Eventually, he takes up arms with the Navi against the humans, and after his avatar is mortally wounded, the Navi perform a ritual to forever link his conscience to his avatar. He is brought back to life, but now fully and completely as one of the Navi.
Avatar is a story about how technology used as a tool that can bridge a gap and forge an even stronger bond; not just between two different races or species, but between two different worlds.
As a storyteller, Cameron is fully aware of technology's power and its dangers. He has stated, "I see our potential destruction and the potential salvation as human beings coming from technology and how we use it, how we master it and how we prevent it from mastering us. Titanic was as much about that theme as the Terminator films, and in Aliens. It's the reliance on technology that defeats the marines, but it's technology being used properly that allows Sigourney's character to prevail at the end. Also, Titanic is all about technology, metaphorically as well as on a literal level because the world was being transformed by the technology at that time. People were rescued from the Titanic because of wireless technology, and because of the advances that had been made only in the year or so before the ship sank that allowed them to call for help when they were lost at sea in the middle of the North Atlantic."
Moreover, Cameron's hope for technology is he wants to use it as a tool. He also wants to use it in his art to be able to bring people (different worlds) together.
-Bill Arthur