on wax: the youth takeover, Playboi Carti, Ski Mask, The hateful conduct policy and More
SKI MASK DROPS BEWARE THE BOOK OF ELI
The tape is finally here! With his name being absent on the recent XXL leak (even though only eight were named), the question of where Ski was probably didn't stray too far from fans, or even those who recognize the rise he was having in late 2017. Dropping the project, BEWARE THE BOOK OF ELI, Ski Mask brings with him a full project that gives you a good amount of himself. Weird enough statement? ….Listen to the album and see.
Although, given that the project only had four features, Ski does as much of the heavy lifting as you'd expect. What brings curiosity is what would it be like if X had been on those two tracks Ski wanted, and that is by no means to bring up X whenever Ski is a topic. They just have a great songwriting dynamic.
PLAYBOI CARTI'S DIE LIT
After finally dropping a project that no one believed was coming, Playboi Carti released his follow up, Die Lit. The album honestly has one of the best sets of features on tracks from the likes of Skepta, Travis Scott, Lil Uzi Vert, Pi'erre Bourne, Chief Keef, Bryson Tiller, Young Thug, and Yung Nudy with even Nicki Minaj appearing on the project. From the looks of it, Carti has been hard at work to complete the project.
For Carti, the sound is consistent, and he doesn't stray too far from his original sound, but does manage to create memorable tracks with Uzi (Shoota) and R.I.P. The question is where do we go from here?
DRAKE AND LIL BABY "PIKACHU"
Not going to lie… there was little that stopped me from clicking on this track from the jump, but when I did, there was no regret. Drake opens the track ripping through it making light work on the beat. While his bigger tracks, like "God's Plan" and "Nice For What," are good tracks, they are better pop tracks. "Pikachu" on the other hand was not that. It was Drake showing off because he no longer has to prove that he still holds one of the best spots in hip-hop.
Seeing his next project, Scorpion, on the way, it's starting to feel like he was never dethroned, or if he was, he might be returning for it. Either way, he remains top two. However, Drake couldn't have done it alone. Lil Baby acts as the exclamation mark for Drake, finishing this track perfectly. Set to release his debut album, Harder Than Ever, could Lil Baby be set for a takeover?
YBN CORDAE "MY NAME IS" 
In what came as a surprise, YBN Cordae released one of Eminem's biggest tracks, "My Name Is" remixed. The track is hard from start to finish with no breaks in between. With this, Cordae definitely has hip-hop's attention.
THE UP-AND-COMING: BLOOD OATH DELIVER "CHILDREN OF THE CORNER"
In what happens to continue this trend of the youth taking over, Lyrical Lemonade highlights up-and-coming group, Blood Oath, with the release of their music video, "Children of the Corner." The track uses a playfully demonic sounding beat that ushers lyrics that do not fail its listeners. What's most interesting is the dynamic of how they work off of one another without having to rely on the other. All artists involved on this project manage to shine brightly on this track.
Fonah opens the track impressively by switching up his flow mid verse, lyrically holding the attention of the listener the entire time. Kwesi enters for the second verse, while smoothly moving through the track like a quiet storm bringing two classic punchlines almost back-to-back. The two are a pair that carries their own weight, and it shows as they bring that full circle on the track. A true force to be reckoned with, and it would be best to keep an eye out for these Chicago natives.
ROLLING LOUD HIGHLIGHTS
There's no doubt that Rolling Loud is becoming the Coachella of hip-hop. The flagship Miami edition of the festival took place this weekend, with headliners J. Cole, Travis Scott, and Future. One of the biggest highlights of the festival was the first major performance of Meek Mill. Unknown to attendees, the Philly rapper was a special guest of the festival. Rightfully so, the wrongfully imprisoned rapper got a great reaction from the crowd.
ITS DOLPH!
Young Dolph also gets a nod for his performance. Over the weekend, two employees at Duke University were fired on May 7th as the VP of studnt affairs walked into a coffee shop where the two employees were playing Dolph's track "Get Paid." During his set, Young Dolph brought the two employees out and gave them each $20,000 to help them out. With that single move, the Memphis rapper solidifies himself as a GOAT
J.COLE AT ROLLING LOUD? 
One of the more interesting events at Rolling Loud was J. Cole's set. His last album, KOD, is the complete opposite of Rolling Loud. The festival itself is named after weed, whereas Cole's album has an anti-drug agenda amongst other things. The album's closer "1985" has a message to many of the artists that play Rolling Loud. Seen as a (kinda) diss to Lil Pump and Smokepurpp, who have a song titled "Fuck J. Cole," Jermaine spits knowledge to the younger generation, telling them to stop their bad habits before it's too late. During his performance of the song, which was performed acapella, Lil Pump was spotted dancing to the track. Pump was more than likely being sarcastic about the performance. Pump should probably chill though, cause next year if he's not relevant, the whole world is gonna laugh.
TEE GRIZZLEY ACTIVATES
Detroit rapper Tee Grizzley released his debut album titled Activate. Blending elements of the Atlanta and Bay area sounds, Grizzley crafts a familiar, but consistent sound, along with his husky vocals. While the record somewhat features heavy, the D rapper still finds areas to shine. Tee Grizzley crafts a decent start to his already prospering career.
SPOTIFY'S "HATEFUL CONDUCT POLICY"
On May 10th, Spotify took a stance on controversial artists, like R. Kelly and XXXTentacion, by removing their songs from their playlist. The reason is due to their "Hateful Conduct Policy," which does hold artist accountable for certain personal behaviors that may or may not be directly reflected in their music. The problem with this is how far does it go? Is this for artist that are 'the perfect use to be poster children' for the "Who We Don't Support" crowd, or is it genuinely about not letting the music excuse the personal life of an artist? While X did not respond, it was said that someone who does represent the artist left this question on the table…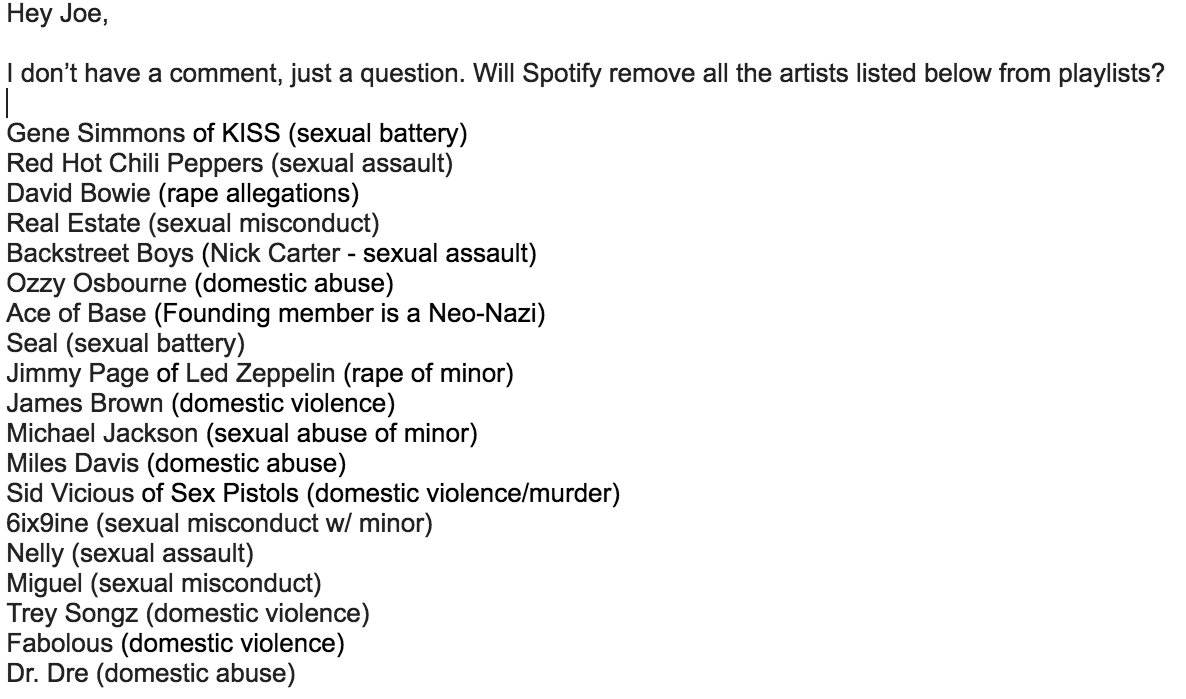 Until Next Time it's On Wax.
-Dyllan E. & Hiram