What I'm Streaming: Animation
Tired of Netflix shoving garbage in your face? It's easy to fall into the algorithm trap. They're very insistent—you'll watch Nailed It! because fuck you, that's why. Not to worry, though, because we've sifted through the trash heap to find the best and brightest streaming has to offer.
This month, we're looking at animation. Cartoons can go places live-action works can't, giving audiences something they can't find anywhere else. It's easy to write animation off as kids' stuff, but you'll be missing out on some of the smartest, funniest, deepest shows and movies around.
The Venture Bros.
Recommended if you like: The Tick, David Bowie, and mullets
One of Adult Swim's sharpest offerings, The Venture Bros. is a smart look at legacy and failure disguised as a riff on '60s action cartoon Johnny Quest. The titular brothers, Hank and Dean, are a pair of lunkheads who give their father Dr. "Rusty" Venture and bodyguard Brock Samson endless grief, all while juking supervillains like the low-rent Monarch and Baron Ünderbheit. Despite the comic-like trappings, The Venture Bros. is more than capes; the jokes are rapid-fire and whip smart. Have a word of advice: you can skip the proof of concept pilot, "The Terrible Secret of Turtle Bay," unless you really want to see the earliest origins/jankiest animation around.
Available on: Hulu
Akira
Recommended if you like: The Matrix, body horror, and screaming
1988s Akira changed the game when it came to animation. A hard sci-fi masterwork, this Japanese import is considered one of the most influential and important genre movies of all time. The film's vibrant visuals are stunning, the story crackles like lightning, and its legacy still lingers—you wouldn't have sci-fi like The Matrix or Inception without it.
Available on: Hulu, Yahoo!
Yellow Submarine
Recommended if you like: The Beatles (duh), music videos, and copious amounts of drugs
A surrealist musical adventure, The Beatles' trippy excursion through a rainbow world of magic and color is remarkably British and delightfully strange. The band finds themselves in the magical Pepperland, which is under siege by the simultaneously sinister and ridiculous Blue Meanies. John, Paul, George, and Ringo have to save the day through lavish musical numbers and affable wit. It's credited with some of animation's first steps into serious filmmaking, and will charm cinephiles as much as it will children.
Available on: Amazon Prime
Kubo and the Two Strings
Recommended if you like: The Nightmare Before Christmas, Coraline, and giant beetle men
From the stop motion masters at Laika, Kubo and the Two Strings is a lovingly crafted tale of magic and melancholy. Gorgeous to look at and surprisingly mature, Kubo never talks down to its audience, no matter how young, avoiding the condescension that plagues so many family-friendly movies. The New York Times called it "visually intoxicating," with a seamless blend of stop motion and CGI.
Available on: Netflix
Regular Show
Recommended if you like: Adventure Time, Clerks, and your shitty job
Regular Show is a love letter to slackers everywhere with a heavy dose of magical realism. Lazy twenty-somethings Mordecai and Rigby (a blue jay and a raccoon, respectively) work for room and board in a city park where the two dropouts navigate life, love, and the forces of the cosmos. Also, sentient video games, and Billy Mitchell's giant disembodied head. With eleven-minute episodes, it's built for binging. There's some surprising guest stars as well: Tyler, the Creator and Childish Gambino pop in for a psychic rap battle, for instance.
Available on: Hulu
Fantastic Planet
Recommended if you like: Surrealism, Pink Floyd, and the French in general
Weird and wonderful, Fantastic Planet is considered a landmark in animation. Equally bizarre and graceful, the film's an allegory for human rights and racism wrapped in surrealism. The prog rock score manages to remain fresh, despite being, you know, prog. Fantastic Planet lives up to its name, and there's no better time to take a trip to planet Ygam.
Available on: Filmstruck
Batman: The Animated Series
Recommended if you like: The Dark Knight, noir, and mustard brown double-breasted suits
The superhero craze wouldn't exist without Batman, and Batman: The Animated Series redefined the character and his villains back in the '90s. It's an Emmy-winning bona fide classic with tight scripts and an incredible cast: Kevin Conroy and Mark Hamill are Batman and the Joker. It's streamlined, yet deep; it's a show so dark that they literally drew it on black paper. There's the occasional stinker in there—the studio mandated, kid-friendly "I've Got Batman in My Basement," for example—but overall, the tone and quality holds up, and continues to define the character and his mythos.
Available on: Amazon Prime
Home Movies
Recommended if you like: Bob's Burgers, Dr. Katz, Professional Therapist, and alcoholic soccer coaches

From Bob's Burgers creator Loren Bouchard and Metalocalypse's Brendon Small, Home Movies follows elementary school auteur Brendon and his collaborators, Melissa and Jason. They're budding filmmakers, but first, they have to get through the second grade. Wry and dry, the humor's largely improvised (they called it "retroscripting," where episodes were rewritten on the fly), with some of the best material coming from wizened sage/constant drunk Coach McGuirk, voiced by H. Jon Benjamin. You'll never forget the first time you hear the musical story of Franz Kafka.
Available on: Hulu
Daria
Recommended if you like: Dry humor, the '90s, and being the weird kid in high school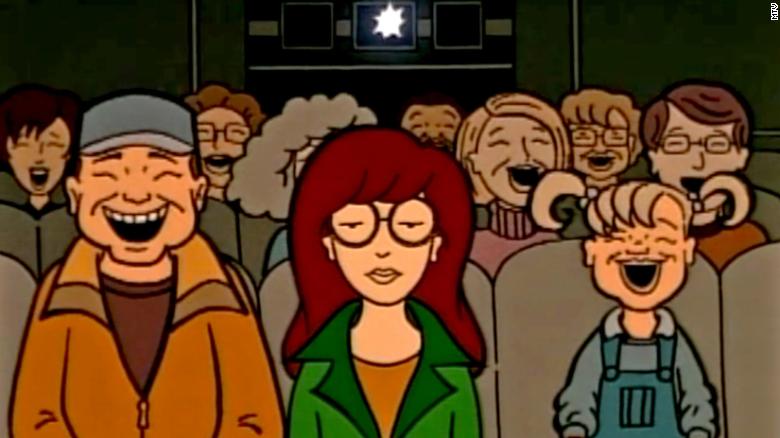 Before MTV was all about Jersey dirtbags and knocked-up teens, they actually had legitimate programming, and Daria was one of the best. The definition of deadpan, Daria skewers the high school experience with sharp dialogue and cutting characters; it's the polar opposite of the typical teen drama. Consider it the antidote to Dawson's Creek. Though you'll miss out on the original soundtrack (licensing issues keep hits like "Everlong" out of bounds), it'll still have you pining for the days when MTV gave a shit. It's getting a reboot soon, so take the original for a spin.
Available on: Hulu
—Jackson Sutliff